"International Symposium Celebrating Nine Decades of the National Central Library"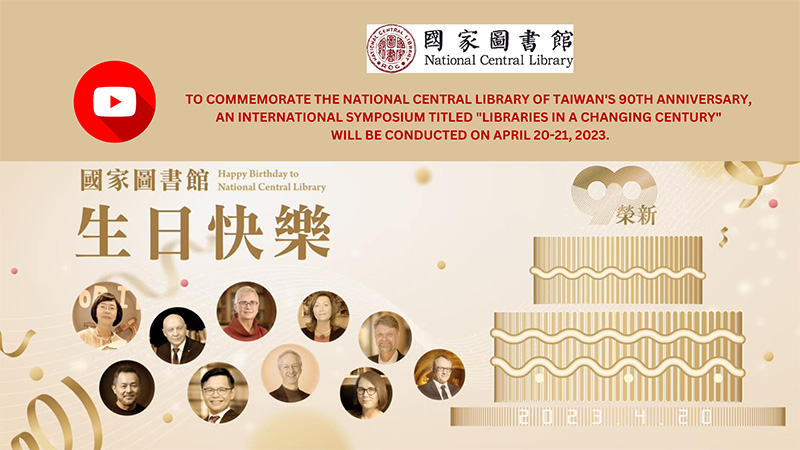 To commemorate the National Central Library of Taiwan's 90th anniversary, an international symposium titled "Libraries in a Changing Century" will be conducted on April 20-21, 2023. Let's participate in 1.5 days of live streaming. Distinguished speakers from the National Central Library Taiwan, the British Library, the National Library of the Czech Republic, the National Library Board (NLB), Singapore, the German National Library, the Library and Archives Canada, and others will present various topics in the global library sphere for the future, including library transformation during COVID-19, a new horizon of academic libraries, the new value of libraries, building a knowledge space that creates value, redesigning libraries under the framework of the SDGs, and many more.
Topics covered:
- Discovering New Value of Library: Aiming on Enduring Positive Input to the Human Society-Endeavors, Accomplishments, and Future Perspectives of the National Central Library
- The British Library at 50: Looking to the Future
- Covid Pandemic as the Gate to the New Library Services. Case Study of the National Library of the Czech Republic
- The Obvious has Become Obvious. Libraries after the Pandemic
- Empowerment, Innovation and Sustainability: Library Transformation during Covid-19 Pandemic
- Smart State Needs Smart Libraries: Designing Proactive Public Services in Estonia
- The Concept of the National Library: Building a Knowledge Space that Creates Value
- Transforming Singapore's Libraries and Archives through LAB25 (Libraries and Archives Blueprint 2025)
- A New Horizon of Academic Libraries - Data Services and Advanced Analyses
- Sustainability in the German National Library
- Redesign Library under the Framework of SDGs
- Transforming Access: Shifting the Focus from Preservation towards Access
Be inspired by the Library implementation cases from our Library friends.
Date & Time;
April 20-21, 2023
09:00 AM (GMT+8)
Live streaming link for April 20th:
https://youtube.com/live/8uYnwv0G_eA?feature=share
.
Live streaming link for April 21st: https://youtube.com/live/jAGbWz3Q5uo?feature=share
Regarding the agenda, click here: https://90th-conf.ncl.edu.tw/agenda?siteid=conf-ncl90thc