Who is considered OLD? How do we define Old and Young?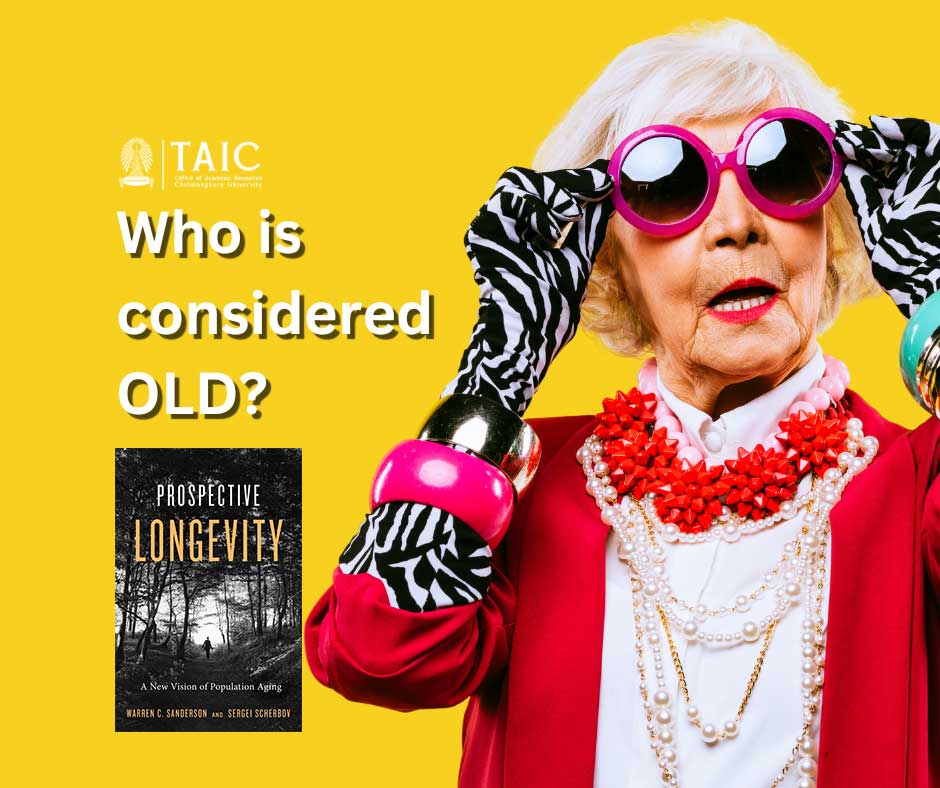 .
United Nations defines those who aged 60 years or over are older persons. Moreover, age 65 is commonly regarded as the threshold of old age since the rates of disease and mortality begin to rise during this particular time of life. Yet, individuals above the age of 65 are all different. What if you are still in good health? What if you still work for a living? What if you still completely depend on yourself and are perfectly fine being on your own? How do we define Old and Young?
.
To properly prepare for an aging society, Chulalongkorn University's College of Population Studies hosted a vital lecture topic, 'Sustainable Development with a Focus on Ageing,' with guest speaker Professor Sergei Scherbov from the International Institute for Applied System Analysis (IIASA) and director of the Demographic Analysis at the Wittgenstein Centre for Demography and Global Human Capital, Vienna, Austria. Professor Sergei and his colleague Professor Warren C. Sanderson wrote the book 'Prospective Longevity,' which provides a new technique to quantify individual and population aging. He stated in the lecture that instead of measuring how many years we have lived, we should assess how many years we have remaining, our "prospective age or life expectancy," as well as other health measures.
.
According to United Nations and World Population Prospect: the 2019 Revision statistics, the population aged 65 and up is expanding faster than all other age groups worldwide. The number of people aged 80 and up might treble by 2050, from 143 million in 2019 to 426 million. Ageing society will possibly be one of the most important social changes of the 21st century, affecting nearly all sectors of society, including economics, labour markets, finance, and the demand for goods and services such as housing, transportation, etc.
.
Concerning the new methodology of age measurement that Professor Sergei proposes, better estimates of the demographic can be generated, and they can also be used in policy planning. Rethinking about ageing based on the characteristics of people provides policymakers with new measures of population ageing that align with social context properly, such as retirement, health in old age, and social insurance. Preparing for an ageing population is one of the most significant issues relating to the SDGs that lead to the achievement of the integrated 2030.
.
This new age measurement has already been adopted by the United Nations. Anyone who is interested in this particular topic can access the book 'Prospective Longevity' via http://demog.iiasa.ac.at/apps/world.html
.
Reference: https://www.un.org/en/global-issues/ageing